Learn about the Advisory Group
What is the Advisory Group of People with Lived Experience? On this page, find out more about what the Advisory Group does, including what you can do as a member to make an impact on people affected by dementia in Canada.
Who we are
The Advisory Group of People with Lived Experience of Dementia is the heart of the Alzheimer Society of Canada. Our members make a significant impact on our work, including dementia research, education and advocacy. 
Every member brings their own personal story and journey with dementia and uses it to make necessary and vital changes in how dementia is understood across the country. 
As a member, you will join a growing community of people with experiences similar to yours, people who understand what living with or supporting people with dementia means. In this community, you will be able to help and encourage each other through your own journeys with dementia. 
The purpose of the Advisory Group is to support and guide the mission of the Alzheimer Society of Canada by drawing on your personal experience. 
We believe in not developing anything for you, without you. Through the Advisory Group, we will be able to learn from your experience as you advise us on our work, whether within research, education or advocacy.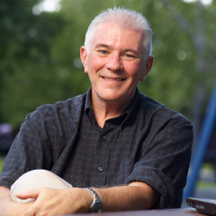 "We need people affected by dementia to share experiences and insights. And we need to hear from caregivers, and all those who support people with dementia, whoever you are." - Roger (pictured), from Medicine Hat, Alberta. Roger lives with Alzheimer's disease and is the co-chair of our Advisory Group.
How you can join  
By joining, you can get involved in as many areas of our work as you like, such as advising on our strategic direction, revising educational materials, and speaking up for the realities of life with dementia. 
But importantly, you get to decide which activities you get involved in and how often you work with us. You do not have to commit to anything – just sign up, let us know what you'd like to hear about and then wait for the opportunities you want to become available. 
Are there any requirements as a member?
There is only one requirement: That you use your voice to help all people affected by dementia. Your contribution will ensure the work of the Alzheimer Society of Canada is defined by those who are impacted the most by dementia. 
What you can accomplish
As an Advisory Group member, there are many different ways for you to support the work of the Alzheimer Society of Canada.
Here are some examples of ways the Advisory Group has integrally contributed to the work of the Alzheimer Society of Canada – all of which you can get involved in!
Looking for more information?
If you'd like to speak to someone about the Advisory Group, you can contact Natasha Jacobs, our Advisory Group Lead, by emailing advisorygroup@alzheimer.ca or calling her directly at 416-847-2963.
Related pages