Participate in research
read
On this page, learn more about clinical studies and how you can get involved to help advance dementia research in Canada.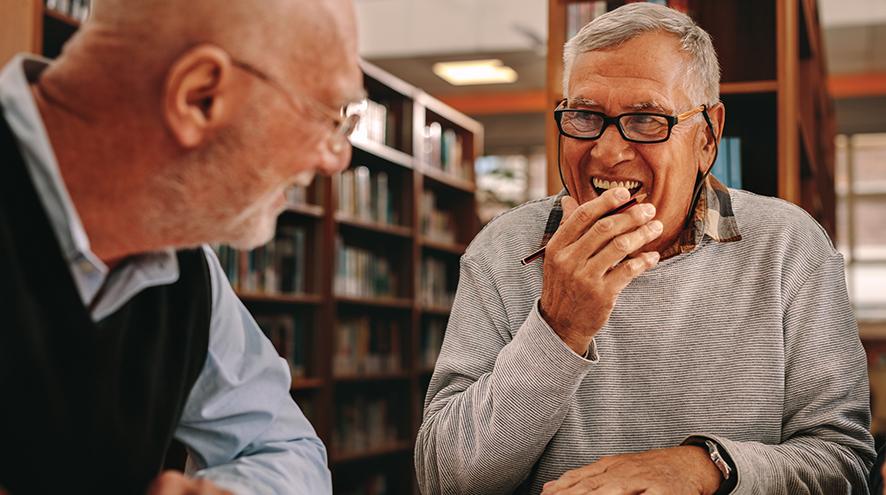 Participate in a current study
The Alzheimer Society Research Portal connects researchers with Canadians looking to participate in studies. This initiative will help to advance Canadian studies on Alzheimer's disease and other dementias.
To get involved in a specific study, please refer to the contact information found within the studies linked below.
Canada-wide

New Brunswick

Nova Scotia

A telephone, paper and online study seeking adults living with dementia and are living in the community; family members, care partners or caregivers of a community-dwelling person living with dementia; Nova Scotia Heath (NSH) healthcare professionals who provide dementia care; and/or a client service staff member of the Alzheimer Society of Nova Scotia. Recruitment ends June 30, 2022.

Ontario

Quebec

A computerized task-based experiment seeking adults with mild cognitive impairment associated with possible or probable Alzheimer's disease, and do not have any other neurological or neuropsychological disease. This study is also seeking adults aged 65 or over who do not have any neurological or neuropsychological disease for the control group. Recruitment ends July 21, 2024.

Saskatchewan
Participate in a pharmaceutical or clinical trial
Pharmaceutical and clinical trials are not included in the Alzheimer Society Research Portal. You can find these studies by visiting ClinicalTrials.gov.
Brain donation
For more information about donating brain tissue for research in Canada, contact the following:
The Maritime Brain Tissue Bank
Sir Charles Tupper Building
Faculty of Medicine, Dalhousie University
Halifax, Nova Scotia B3H 4R2
Phone: Andrew Reid at (902) 494-4130
Website: http://braintissuebank.dal.ca/tissue-donations/info-for-donors
The Douglas-Bell Canada Brain Bank (residents of Quebec)
Douglas Hospital Research Centre
6875 LaSalle Blvd.
Borough of Verdun
Montreal, Quebec H4H 1R3
Phone: (514) 761-6131 ext. 0 and ask for the "brain bank"
Website: http://douglasbrainbank.ca/
Note: Brain donation to the Douglas-Bell Canada Brain Bank is currently restricted to participants of longitudinal cohort studies such as CIMA-Q (http://www.cima-q.ca/en/home/) and CCNA (https://ccna-ccnv.ca/).
How to make arrangements for brain donation
Inform the attending physician that you would like an autopsy of the brain

to be made and request a

consent for autopsy form

.

Complete a consent for autopsy form as follows:

Indicate that a brain autopsy is being requested,
Specify in writing that a donation to a brain bank is also

being requested,

Indicate which location you would like the brain donation to be sent to: 1) Maritime Brain Tissue Bank or 2) Douglas-Bell Canada Brain Bank, and
Ensure that the next of kin signs the consent form.

The on-call pathologist within the hospital is to be notified that a brain autopsy has been requested.
Contact the brain bank to inform them that a brain donation is being made following the autopsy.
Following the autopsy, hospital staff will make arrangements to have half of the brain sent to the requested brain bank as per the instructions stated on the consent for autopsy form.
Other notes to consider
Not all hospitals conduct brain autopsies, in which case the body may have to be transported to another institution where the procedure can be performed. In such circumstances, the attending pathologist at the receiving hospital must be notified of this request so that the appropriate procedure can be performed.

Half of the brain tissue will be retained by the hospital to confirm the neuropathological diagnosis. A report of the findings should be made available to the family via the physician who requested the autopsy. A copy should also be sent to the receiving brain bank for their confidential records.
In some provinces there is also a fee associated with brain autopsy. It is recommended that you consult your physician for these details.
In cases where the donor passes away at home or within a care residence, costs for autopsy will likely apply.
Funeral arrangements
It is important to mention that a brain autopsy does not interfere with the funeral service. There are generally no visible scars resulting from the procedure and the donor can have an open casket if preferred. A 24-hour delay should be expected.
Why participate in research?
Clinical research uses human volunteers to study the effects of an exposure (for example, a drug or behaviour) on a health outcome (for example, blood pressure, symptom relief or improved quality of life). The knowledge we gain through clinical research helps improve the ways we can prevent, diagnose and treat disease.
Types of clinical studies
There are two main types of clinical studies you might be interested in being involved with:
Clinical trials
Clinical trials examine the effects of an experimental intervention, delivered as part of the trial. Interventions can include new drugs, devices or ways to receive healthcare, as well as things like changes in behaviour, such as diet and exercise programs.
People in the trial may be assigned to receive the intervention, or not, to compare health outcomes between the people in each group.
Observational studies
Observational studies involves interviews and/or tests. The key difference with clinical trials is that participants in observational studies are not assigned to receive an experimental intervention as part of the study.
Risks and benefits to participation
There are potential risks and benefits to participating in any kind of research. It's important that you understand both before participating in a research study.
This checklist of questions to ask is meant to help you make the best decision, for you and your family, about participating in research.

We suggest that you use this sheet to take notes of the details of each clinical research study that interests you.
Many of these questions will require a detailed conversation with someone working on the study.
Learn more about participating in research
Some places to learn more about research studies you might become involved with include:
Your local hospital or health science centre, and
Your healthcare providers (e.g., your family physician).
More useful links and resources
Participating in research. Alzheimer Society of Canada, July 2018. This information sheet can help people living with dementia decide if participating in a research study is right for them.
Checklist for participating in research studies: what should I ask? Alzheimer Society of Canada, December 2016. This check sheet can help anyone interested in participating in a research study know what to expect and how to be prepared.
Health Canada's Clinical Trial Database. Health Canada, last updated June 2016. Through this database, the general public can look up specific information about Canadian clinical trials involving human pharmaceutical and biological drugs, including whether a clinical trial has met regulatory requirements.
ClinicalTrials.gov. U.S. National Library of Medicine. A database of privately and publicly funded clinical studies conducted around the world.
The Consortium of Canadian Centres for Clinical Cognitive Research (C5R). This not-for-profit research network has more information on how drugs are approved in Canada, and how to participate in a clinical trial in Canada.