Leave a gift in your Will
By leaving a gift to the Alzheimer Society in your will, you can ensure that your charitable legacy will go toward supporting research that can prevent, treat and – hopefully, one day – cure dementia.
Planning for your charitable legacy
"I would urge anyone to think about putting something in your will...that really is meaningful to you in terms of a cause." - Caroline, from Toronto, Ontario. Caroline is leaving a gift in her will in memory of her husband and her mother, who both lived with dementia.
The brain is the most complex organ in the human body. While we're putting new pieces together every day, a puzzle of this magnitude takes time to complete. Until then, researchers in the field of dementia need continued support for their projects. And that's where you can make a difference – by leaving a gift to the Alzheimer Society of Canada in your Will.
By planning your estate and talking to your family about how you wish to be remembered, you can ensure your charitable legacy.
The way to ensure your wishes are met is through a well-documented Will and powers of attorney. A Will provides an effective means for you to benefit causes that are dear to you, and a power of attorney for property ensures your choice to donate to certain charities continues should you become incapacitated.
The benefits of leaving a charitable bequest
What's in it for you? A gift in your Will has many practical benefits that allow you to meet your own, unique financial needs as well as your philanthropic objectives: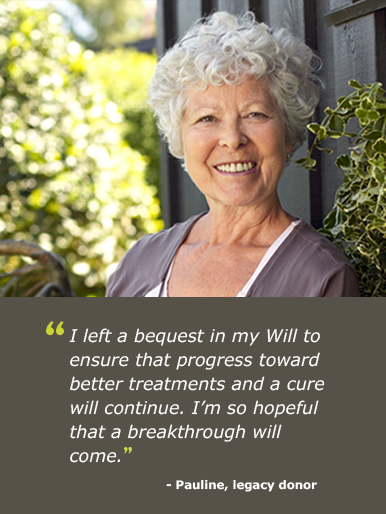 It's simple:

Leaving a gift in your Will is easy to arrange.

It's flexible: A gift in your Will can be made no matter how old you are or how much you have to give.
It has tax advantages: A gift in your Will is a highly effective way to reduce taxes on your estate after death.
It has a lasting impact: Leaving a charitable gift in your Will gives you the satisfaction that the areas you felt strongly about in your lifetime will continue to receive support, even after you're gone.
It's personalized: You can make a general gift, or choose to designate it to a specific program such as research, education, awareness, or caregiver support.
How to leave a gift in your Will
Download our brochure (PDF)
Want to know more about planning your legacy? Download this print-friendly brochure to discover the potential impact of your gift, find out the type of gift that's right for you, get answers to frequently asked questions and learn more information that can help you with planned giving.
For help in preparing your gift, please consult your legal advisor and/or financial planner. Download our sample will wording to get started (see Estate planning resources, below, for more resources), and bring the following information to your appointment:
Legal Name: Alzheimer Society of Canada
Charitable Registration Number: 11878 4925 RR0001
Contact: Dana Lecours, Office of Gift Planning, Alzheimer Society of Canada
Phone: 416-847-2951
Toll-free: 1-800-616-8816
Email: plangiving@alzheimer.ca
Other ways to leave a charitable gift
Your legacy can take many forms:
Life insurance
Charitable trusts
RRSPs and RRIFs
Securities and mutual funds
Charitable annuities
Named funds
There are many different ways to make a charitable gift—our Office of Gift Planning can help you plan a contribution that meets your financial and personal needs.
Estate planning resources
Alzheimer Society of Canada resources
More than 50% of Canadians don't have a Will. Are you one of them? Use these resources to help your estate planning.
Will planning checklist (PDF)
If you're looking for a place to get started, look no further than our Will planning checklist. By preparing today, you can make a difference to your own well-being, to the future of the people you care about, and to the charitable organizations that you support.
Sample Will clauses (PDF)
Need help getting your will started? Download our sample will wording. Note that a lawyer or estate planner should review any wording in your Will.
RBC Wealth Management resources
You can also check out these great resources from RBC Wealth Management:
Executor duties checklist (PDF)
Whether you are currently settling an estate or planning to appoint an executor in the future, this checklist can help prepare you for the key tasks involved.
This helpful article evaluates five key questions you should ask yourself to help ensure successful wealth planning.
This guide goes into the details of charitable giving, and discusses some options to consider when making a gift to a charity.
This article can help you define what charitable giving means to you, and help you determine what causes you would like to leave your legacy with.
This page is generously supported by:
RBC Royal Trust and RBC Wealth Management are business segments of the Royal Bank of Canada. Please click this link http://www.rbc.com/legal/ for further information on the entities that are member companies of RBC Wealth Management. The content in this publication is provided for general information only and is not intended to provide any advice or endorse/recommend the content contained in the publication. ®/TM Trademark(s) of Royal Bank of Canada. RBC and Royal Trust are registered trademarks of Royal Bank of Canada. Used under license. © Royal Bank of Canada 2021. All rights reserved.
More information and resources for your financial and legal planning