The Alzheimer Society Research Program
On this page, learn more about the Alzheimer Society Research Program, including funding opportunities for researchers, when applications open and highlights from previous ASRP funded research.
What is the Alzheimer Society Research Program?
The Alzheimer Society Research Program (ASRP) is one of Canada's most innovative hubs for dementia research, helping the best and brightest minds in the field spark their work from ideas to impact.
Since the Program's start in 1989, we have invested over $67 million in grants and awards toward innovative research that brings us closer to a future without Alzheimer's disease and other dementias.
Starting this year, the ASRP is changing the way it invests in research:
Encouraging researchers to explore radical new ways to advance our knowledge of dementia, and
Improving the quality of life for people living with dementia, their families and caregivers.
What kind of research is the Alzheimer Society Research Program currently funding? See the 2022 funding recipients and learn more about the researchers and projects making an impact on dementia in Canada!
Check out how your donations are supporting dementia research in Canada
How can researchers get funding from the Alzheimer Society Research Program?
Know what kind of funding is available
The ASRP offers funding in four categories: Doctoral, Postdoctoral, the New Investigator Operating Grant and the Proof of Concept Grant.
Learn more about the amount, duration and eligibility for each of these categories by visiting Alzheimer.ca/Apply.
Know the key dates for applying
The competition for the next round of ASRP funding will open Friday, September 9, 2022.
For more information on how to apply, key dates, funding categories, guidelines and frequently asked questions, please check out Alzheimer.ca/Apply.
Know the program's funding priorities
But, before you apply! Please read on below to learn more about the ASRP's priorities and your opportunities for funding.
Starting in 2019, the ASRP has shifted into an open competition that will focus on varying funding priorities: Basic science research, clinical, health services and population health. Applications in other aspects of dementia research, such as cause, prevention, risk, technology, social science and psychosocial interventions are also considered.
See the infographic below for the ASRP's eight funding priorities and how they are weighed when funding is allotted.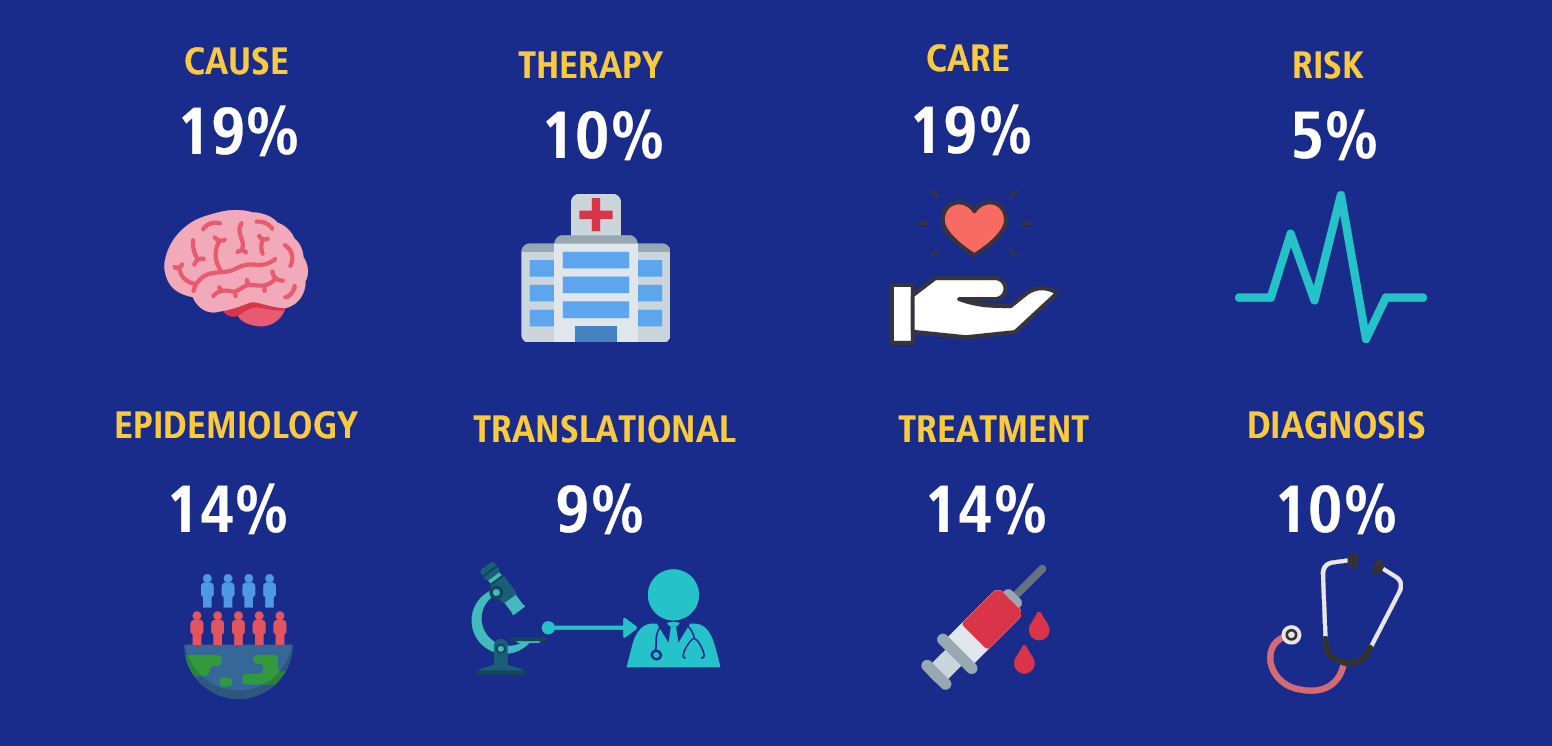 Examples of research funded through the ASRP
Through the support of the ASRP, dementia researchers across Canada were able to work on projects like:

"An intergenerational choir that provides a voice for people with dementia and caregivers through the power of music."

— Dr. Debra Sheets, University of Victoria
Read more about Dr. Sheets' research on the benefits of music and community for people living with dementia.

"Using MRI to predict the onset of dementia — 20 to 25 years before symptoms appear."

— Dr. Simon Duchesne, Université Laval
Read more about Dr. Duchesne's research on predicting dementia early.

"Adopting new and accessible technology such as iPads to emphasize person-centered care in hospitals."

— Dr. Lillian Hung, Simon Fraser University
Read more on Dr. Hung's research on using technology to assist dementia care.
Supporting the Program
The Alzheimer Society Research Program is a collaborative effort. The Alzheimer Society of Canada would like to thank the following:
Our donors
None of the research funded through the ASRP could be possible without your support. If you are interested in supporting dementia research through the ASRP, please donate today.
Our partners
Our partners include the Canadian Consortium on Neurodegeneration in Aging (CCNA), the Fonds de recherche du Québec – Santé (FRQS), AGE-WELL NCE and the New Brunswick Health Research Foundation.
Find out more about our partners.
Alzheimer Societies across Canada
We also extend our thanks to the Alzheimer Societies who generously contribute to the Alzheimer Society Research Program each year: