Driving and transportation
read
People with dementia may experience different risks and comfort levels with driving and transportation.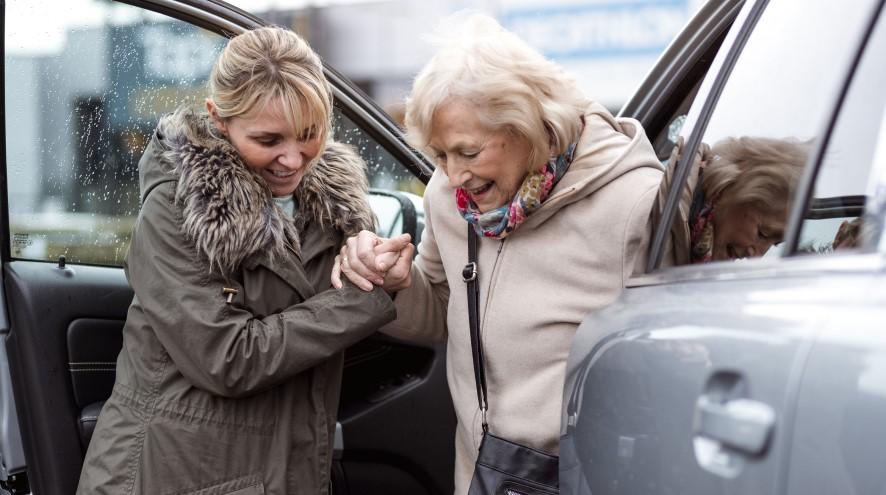 Driving and dementia
Does a diagnosis of dementia automatically mean the person has to stop driving? This is one of the first and toughest issues families and caregivers will face. Some people in the early stages of dementia can continue to drive safely and competently but because of the progressive nature of the disease, it's critical to be aware of any changes in their driving patterns.
Warning signs
As the disease progresses, the person's cognitive function, memory and visual-spatial orientation decrease and may lead to:
Using improper speed or stopping in traffic for no apparent reason
Being confused when to stop or change lanes
Getting lost on familiar roads
Driving in the wrong direction
Using improper signalling
Ignoring traffic lights and signs - thinking 'green' means stop and 'red' means go
Relying on a co-driver or refusing passengers like family and friends
Becoming nervous or irritated about driving
Not being able to make sound judgments on the road – avoiding near misses, not braking in time, driving too fast in inclement weather
Deteriorating eye, hand, leg coordination and reflexes
Receiving increased number of traffic violations or police warnings
Misjudging widths and distances, resulting in an unusual number of small dents or scrapes on the person's vehicle.
Note: Certain types and combinations of medications can further impair the person's reasoning and judgment.
As a caregiver you're not alone
Talk to your family doctor. Physicians are legally responsible to report patients who have a medical condition that may impair their driving.
Raise the issue of driving early to help encourage the person with dementia to participate in decisions about driving.
Driver testing and licensing rules vary by province. It is best to check with your provincial Ministry of Transportation for current rules.
Discuss your concerns with family or friends with similar experiences.
Contact your local Alzheimer Society. Staff are equipped to help you resolve challenging issues and point you in the right direction.
Travelling by car
Transportation in a car or other vehicle should ensure both the safety and emotional comfort of the person with Alzheimer's disease or other dementia.
Someone with Alzheimer's disease or other dementia may have difficulty getting in and out of a car. As the dementia progresses, perceptual problems may develop, often making it difficult for the person to recognize differing depths. As confusion increases, the person might lose the ability to follow the steps it takes to get in and out of a car.
The following steps may help you ensure the safety and comfort of the person with dementia when travelling by car. These steps may also help make the process easier for you, the caregiver, as well as the person you are caring for:
Park your vehicle on a flat surface, a fair distance from the curb, leaving enough room for the person to step onto the street and to be able to turn to sit.
Move the front seat back as far as possible so there is lots of room to move. The front seat of the car is often more accessible than the rear seats.
Clothing may stick to car seats made of velour or cloth. Try covering the car seat with more slippery material, such as a sheet of plastic, to ease movement and shifting. Open the front door first; turn the person around so that his buttocks are facing the inside of the car. Hold the person's hands in yours, or place his left hand on the door and his right hand on the back of the door frame. Back the person up until the backs of his legs are touching the car seat.
Ensure the person's feet are outside of the car and firmly on the ground; guide the person to sit sideways on the seat.
Once seated, direct the person to pull in his left leg, and then his right. Once his legs are inside, the person can shift or swivel around to face the front of the car. Direct the person to slide toward the back of the seat.
Buckle up.
If the person attempts to remove the seatbelt while driving, turn the seatbelt inside out so that the buckle is not easily accessible.
Tips for travelling with someone who has dementia
We all enjoy a change of scenery and a break from routines. However, as Alzheimer's disease or other dementias progress, changes in abilities can make it difficult to get away.
Careful planning will help you manage the changes in surroundings and routines. Here are some tips to make the trip easier:
Have a plan
Include the person with dementia in your planning. Give her a copy of the trip itinerary for her reference.
If you are planning to visit friends and family, tell them about the changes since your last visit.
Learn as much as you can about the place you'll be visiting, so you can anticipate what you'll need.
Think ahead about activities that may need to be adjusted.
Consider a holiday package, where everything is organized for you.
Carry recent photographs, details of what the person is wearing, and preferred places of interest. This will help during a search if one is necessary.
Keep a copy of the name and number of your hotel in a familiar spot in the person's purse or pocket, so he can ask for help if needed.
Simplify
Aim for as few changes in routine as you reasonably can.
Try to get a direct flight.
If you're travelling by car for a long distance, consider extending the time to get there and driving shorter distances each day.
Ask for help
If possible, have an additional person travel with you to help.
Make sure that your travel agent is aware of any special needs.
Inform the airline that you are travelling with a person with dementia. You may want to request early boarding, a wheelchair, transportation upon arrival, help getting on and off the plane or with stowing carry-on baggage.
Request seating near washrooms.
If you are staying at a hotel, let the staff know about your needs and explain some of the possible difficulties you think you might encounter.