Finding help
Caring for someone with dementia can be a complex task. It can be frustrating, confusing, and emotionally and physically exhausting, though it has its rewards and good times. Whether you're a family, volunteer or paid caregiver, if you're the only one providing care, you may wish to get help at some time.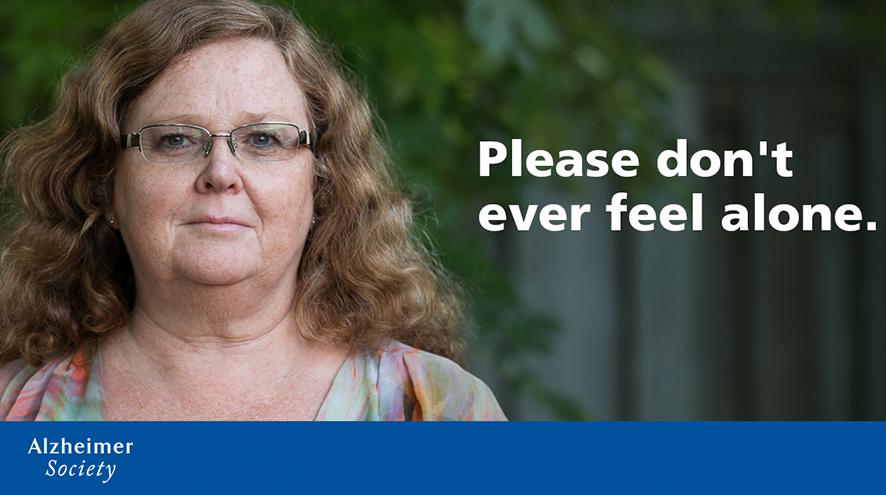 "Please don't ever feel you are alone. Use the support systems that are available...Don't shut people or support out." – Jane (pictured above), from Newmarket, Ontario. Jane is a caregiver for her mother, Eileen, who lives with Alzheimer's.
Emotional help
You may feel you need the support that comes from sharing thoughts and feelings with others. Some days you may need a "sympathetic ear," someone who will listen and not judge. Other days you may need a safe place to "vent." Friends and family can help, or you may find it useful to talk to others who have lived with or worked with caregivers.
Support groups
A support group can give you a place to talk with other caregivers who understand the disease and know just what you are going through.
It gives you an opportunity to share your own experiences, get practical suggestions that can help you in your daily caregiving while letting you help others. A support group can also help you manage stress and feel less isolated.
Some groups are targeted to spouses or adult children. Contact your local Alzheimer Society for a list of support groups in your area.
One-on-one support
Not everyone is comfortable participating in a group. Sometimes, talking one-on-one to someone who has gone through the experience of caring for a person with dementia (peer support) can be very helpful.
It can also be helpful to talk with a trained professional or counsellor. You may find counsellors or peer support through your local Alzheimer Society or look for a social worker through your public health department, health centre or family service agency. Your family doctor may also know of counselling resources in your community.
Humour/light-heartedness
Another way to look after your emotional needs is with humour. Humour can work wonders by helping you cope with caregiving demands. Some days it will be possible to laugh, others it may not be. Look for the humour in day-to-day situations. See a funny movie. Laugh with friends.
Relief/respite care
To continue caregiving you will need to organize respite care: a break, a chance to do something for yourself, to get away from the demands placed on you.

Regular relief can help to rejuvenate your mind and body by giving you a break, as well as providing you with practical support. Asking for that help, however, can be a hard thing to do. You may feel that you are imposing on others, or that you are the only one who can -- or should -- provide care to the person with dementia. The reality is that no one can provide care alone. Taking time for yourself now -- even if it is for an hour or two -- can help you be a better caregiver when you return.

If you don't have family members or friends to give you a hand, you may be able to find a volunteer through your local place of worship or community centre.

In-home respite programs bring trained individuals into your home to provide care. Depending on the program, the worker may provide companionship, assistance with personal care (bathing, dressing), help with housework, etc. Check with your local Alzheimer Society about programs in your area.

Many communities have adult day programs. In these, the person with dementia can participate in a broad range of activities and have a chance to socialize with others. These programs usually include a meal and transportation, and may be available half days, or from one to five full days a week.

Some long-term care facilities have respite beds, so caregivers in the community can get some relief. Ask your local Alzheimer Society for information about where to find more about respite programs.
Practical help
To make caring for someone with dementia at home easier, get help with some of the day-to-day activities and tasks. This can include personal care, cleaning, meals, household chores and taking the person to appointments.

Start by making a list of all the tasks that need to be done, including personal care, shopping, yard work, transportation and housework.

You may be able to get help from family members, neighbours, volunteers or agencies. Some help may be available through the Home Care program in your area at no or low cost. Contact your local Alzheimer Society for more information on services available in your area.

Services that can help include:
Homecare workers

: They provide personal care at home, helping with eating, dressing and bathing as well as light household tasks.

Housekeeping services: These usually include cleaning, shopping, laundry and meal preparation.
Skilled nursing services: Nursing services provide trained professionals in the home.
Meals on Wheels: These programs offer home-delivered meals to help provide well-balanced lunches and dinners.
Volunteer/friendly visiting: These provide a friendly visitor (paid or volunteer) to spend time with the person doing an activity such as walking.
Day programs/seniors programs: These provide social interactions for the person as well as respite for the caregiver.
Community help
Every community has agencies and services that can help you.
Services for the elderly and their caregivers vary in different provinces, territories and regions.
You can find out what services are available in your community from a number of sources:
Your local Alzheimer Society
Your family doctor, health clinic or social worker
The public health department in your area
Community organizations
Your friends, family, neighbours, especially if they have been caregivers