IG Wealth Management Walk for Alzheimer's
The IG Wealth Management Walk for Alzheimer's is an annual event to raise awareness and funds to support people and families living with Alzheimer's disease and other dementias. Together we display a combined strength and dedication in the fight against this disease.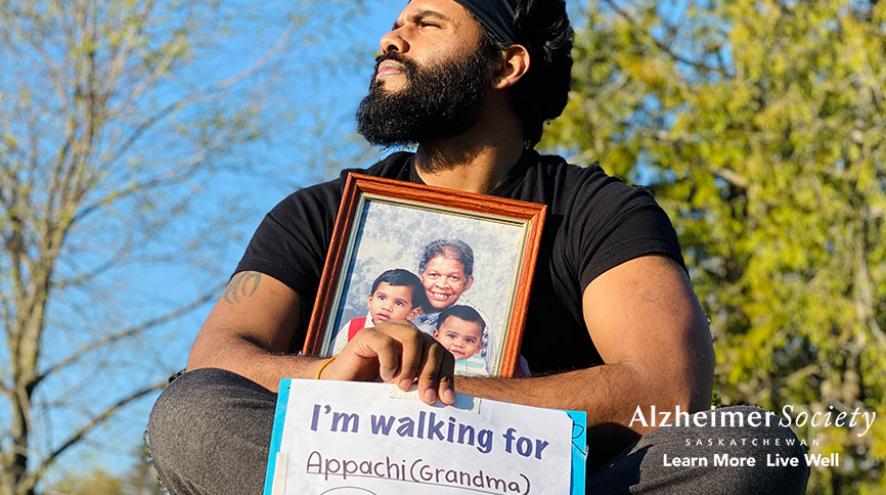 The IG Wealth Management Walk for Alzheimer's is one of our biggest fundraiser's for Alzheimer's disease and other dementias, taking place in more than 400 communities across the country.
Join us on May 27th in a Saskatchewan community near you! 

Register by April 30th, and you'll be entered to win a curated outdoor fun package and Visa gift card (prize valued at $1000). Register yourself for one entry, enter as a team captain or member and get two entries. 
Full Early Bird contest rules and eligibility listed here.

When you walk you're sending a message of hope to Canadians living with dementia, and thousands more who care for them. 
When you fundraise, you're promising them that help will always be available.
Funds raised will go toward local programs and services that improve the quality of life for people living with dementia and their families and support awareness and education about dementia.
If you choose to collect donations offline, please use our 2023 pledge form. 
 
2023 Walk Dates and Locations:
In-Person Walks on Saturday, May 27th:
Registration - 12pm. Walk begins at 1pm.
Regina – *NEW LOCATION FOR 2023*, North of Willow Island, Behind the University of Regina College Avenue Campus
https://goo.gl/maps/VvmBLYc85nHaiFpc9
Saskatoon –  River Landing Park, Amphitheater, 414 Spadina Crescent E
https://goo.gl/maps/xaxvAtEfBN3upAko9
Swift Current – Swift Current Comprehensive High School, Outdoor Track,
1100 11 Ave NE
https://goo.gl/maps/rHd43m3phWtDyMJc8
Prince Albert – *NEW LOCATION FOR 2023*, Kinsmen Park, 2660 Central Ave
https://goo.gl/maps/5vMJkJfDdXjvLeXv9
Walk Your Way
Walk Your Way anywhere in Saskatchewan! Register online to find out more.
Walk in a Box
Host your own Walk event with our Walk-in-a-Box Toolkit!
Double Your Impact
We are excited to announce that Canadian Tire Prince Albert will generously match all donations made to the Prince Albert Walk up to $20,000!
Click here to donate to the Prince Albert Walk, today!
 
Our National Title Sponsor
The Alzheimer Society is pleased to have IG Wealth Management returning for its sixth year in 2023 as Title Sponsor for our annual Walk for Alzheimer's.
IG Wealth Management has a long heritage of community involvement, corporate funding and project initiation that has created a strong corporate culture of caring. Founded in 1926, IG Wealth Management (formerly Investors Group) is a national leader in delivering personalized financial solutions to Canadians through a network of Consultants located across Canada. 
In addition to an exclusive family of mutual funds and other investment vehicles, IG Wealth Management offers a wide range of insurance, securities, mortgage and other financial services. IG Wealth Management is a member of the IGM Financial Inc.
 Thank you to all of our 2023 Sponsors: