Imagine Canada
We are accredited by Imagine Canada for excellence in non-profit accountability, transparency and governance.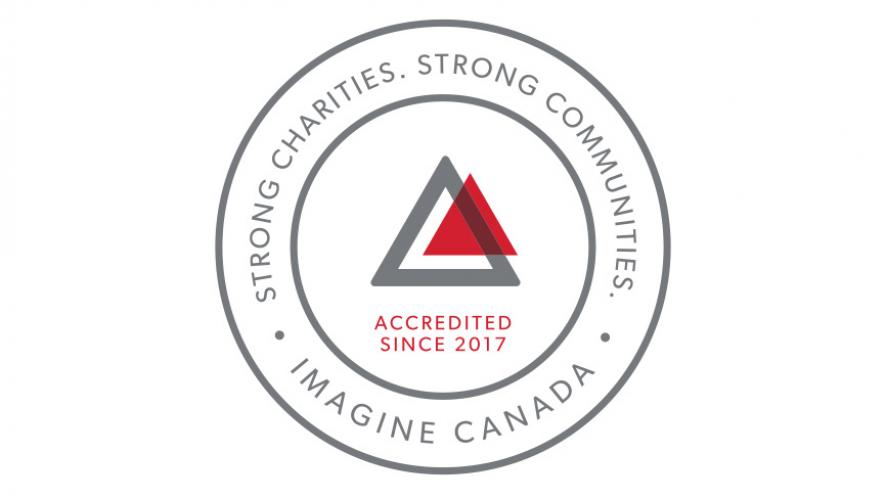 Imagine Canada 
The Standards Program is a Canada-wide set of shared standards for charities and nonprofits.
The Standards Program awards accreditation to charities and nonprofits that demonstrate compliance in five fundamental areas: board governance; financial accountability and transparency; fundraising; staff management; and volunteer involvement. The goals of the Program are to increase organizational transparency in these areas and to strengthen public confidence in individual organizations and the sector as a whole.
Investment in Donor Trust
The goals of Imagine Canada's Standards Program are to increase the transparency of charities and nonprofits, and to strengthen public confidence in individual organizations and the sector as a whole. Trust is the foundation for what matters to us, our stakeholders and those who support us. Accredited organizations invest in what matters: trust.
Transparent, peer-review process
Policies and procedures in the five areas of compliance are evaluated by a peer group of volunteers from the sector, and must be found to be compliant with the Standards Program to be accredited.
About Imagine Canada
Imagine Canada is a national charitable organization whose cause is Canada's charities. Our three broad goals are to amplify the sector's collective voice, create opportunities to connect and learn from each other, and build the sector's capacity to succeed. 
About
Imagine Canada exists to work alongside other charitable sector organizations  — and often in partnership with the private sector, governments and individuals in the community — to ensure that charities continue to play a pivotal role in building, enriching and defining our nation.
We offer programs and provide resources that help strengthen charities and their operations, so they can, in turn, support the communities they serve.
Vision
We believe in a stronger Canada where charities work together, along side business and governments, to build vibrant and prosperous communities.
Mission
Imagine Canada strengthens and supports Canadian charities and nonprofits so they may better serve and engage individuals and communities here and around the world.
Core Beliefs
We believe that charities and nonprofits play an essential role in Canadian society by
Engaging Canadians

Helping those in need

Enhancing quality of life

Building knowledge

Strengthening public policy

Contributing to economic prosperity
We also believe that charities and nonprofits have a responsibility to be
Innovative

Transparent & Accountable

Ethical

Well governed

Inclusive

Collaborative
And, we believe that charities and nonprofits must have the necessary financial and human resources to achieve real impact.
For more information about Imagine Canada visit their website