What does the Charter mean to Marilyn?
Marilyn Taylor lives with Alzheimer's disease. She's a member of the Alzheimer Society's Advisory Group that created the Canadian Charter of Rights for People with Dementia. Marilyn grew up in Alberta where she worked in the oil and gas industry for 20 years. After her mother was diagnosed with cancer, she moved to Nova Scotia to take care of her. A mom, stepmom, grandma, and great-grandma, Marilyn enjoys living independently with her dog and cat who insist on going out for walks in any weather. Read what Marilyn thinks about the Charter below: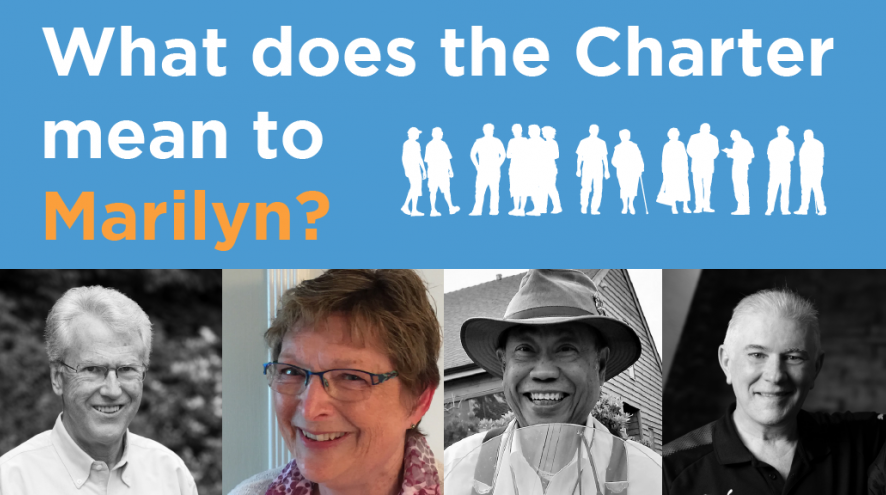 Living well with dementia is a choice. It's my choice, particularly on a good day. When I feel demoralized and down, as all humans are apt to feel now and then, I need a bit of bolstering. The Canadian Charter of Rights for People with Dementia reminds me that I am indeed still a worthwhile person with the rights of all Canadians.
I think about people who are newly diagnosed with dementia—if they feel the same way as I did after my diagnosis, imagining that I would be locked up shortly, without rights. Dehumanized.
When I was first given Aricept, I went to the pharmacy to try the daily pill packages that they prepare. After reading the diagnosis on my package, the attending person started to yell at me in very slowed down speech. My diagnosis didn't say I was deaf and unable to read or comprehend.
I wish that I could've pointed to the pharmacy's copy of the Charter. I don't hide that I have Alzheimer's, but it's my choice when and how to talk about it. Our Charter of Rights is a reminder for me, and those who interact with me, that I am still here, and I am still a person.
Friends are surprised to see me walking by myself and looking normal. Granted, when first diagnosed, I believed that there was only the last stage of Alzheimer's. It's up to us to educate ourselves and our contacts about the stages of the disease.
When a person finds out I have dementia, I tell them not to worry. I'm better now than when I was first diagnosed six years ago. I'm able to live well with the help and support of people and organizations like the Alzheimer Society. Every day is a gift—just as it was before diagnosis.
Read more about the Canadian Charter of Rights for People with Dementia, and how it helps people like Marilyn.