Volunteer
Volunteers are integral to the work we do. Learn more about current opportunities and how we support our volunteers.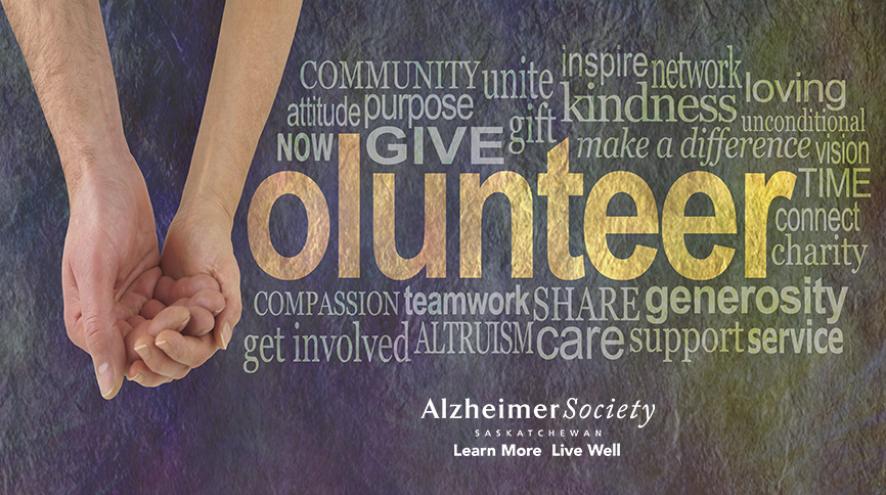 For more information or inquiries regarding volunteer opportunities, contact Marni Hatcher by email at mhatcher@alzheimer.sk.ca or phone 306-949-4141.
Volunteer Awards
Whether acting as board members, helping out around the office, raising their voice by sharing their personal experience, lending a hand at fundraising events or facilitating a support group, our volunteers are vital to ensuring we can help those affected by dementia.
The individual eligible for this nomination must have demonstrated exceptional commitment to the Alzheimer Society in a volunteer capacity. The recipient should demonstrate leadership in helping the Alzheimer Society to achieve the mission through volunteer commitment in the areas of governance, support, education, awareness or fundraising projects.
Volunteerism Award Recipients
2022 - Garth and Rhondda Halkyard
2021 - Jackie Stokvis-Flaherty
2020 - Gord and Claudia Grant
2019 - Leah Larson
2018 - Marcia Verbeke
2017 - Gordon and Lorraine Allchurch
2016 - Carol LaRocque
2015 - Ted Sayer
2014 - Sons of Scotland Benevolent Society, Regina - Camp Balmoral #177
2013 - Barb Stewart
2012 – Pat Bagwell
2011 – Jean Mahon
2010 – Trudy Retzleff
2009 – Therese Jelinski